One of Portugal's biggest sport events is both a new way of doing sports and a new approach to the concept of entertainment.
During the night run, participants go through different scenarios and experiences where they can run, walk or dance.
This concept requires that there is a need to introduce new experiences and to frequently entertain participants along the way.
We have developed from scratch several 'Entertainment Zones' to provide participants with different scenarios and experiences where they can run, walk or dance.
These zones are complete and full of interactivity, lighting and themed soundtracks, which ensure that all participants' senses are stimulated, creating unique and memorable experiences.

The Zones are optimized to be quickly assembled and can be distributed in any order along the route, all in the same day of the event.
This way there are always new experiences to frequently entertain the participants and that guarantee this will be an unforgettable event.
Throughout the course it is essential that participants maintain the Neon spirit and feel within the luminous theme.
However this event is organized in dozens of different cities with routes that pass through various spaces and terrain, many of them of difficult, or without access to electricity.
Given the size and configuration of Neon Run events, they have to immobilize city streets for safety reasons. This involves a complex organization and means that there is only a limited time frame to set up and prepare all event infrastructure around the city.
We developed from scratch modular and portable smart-boxes that allow us to easily connect any type of electrical material anywhere.
These battery smart-boxes allow us to apply various types of lighting anywhere, removing dependencies on external sources of electricity.
The boxes and their various light modules, in addition to having a modern design are extremely versatile and easy to assemble, where only one person can quickly transport and assemble in the desired configuration.
For some of the light modules we used LEDs that could emit intensely below 450nm within the blue and ultra-violet light spectrum. These frequencies allow the lights to react with the luminescent inks used by the participants, making them bright.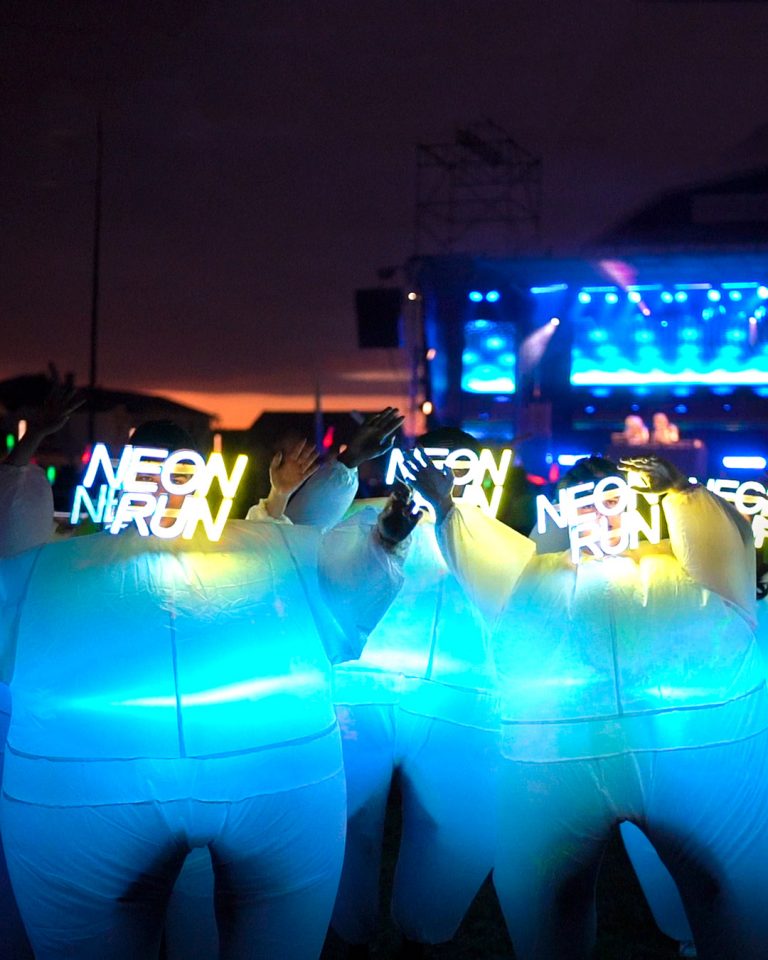 MASCOTES LED INTERACTIVAS E DIVERTIDAS Neonzinhos são uma mascote desenvolvida para a Neon Run Portugal pela MagicHand. Os fatos das personagens têm alta prevalência visual
More
Any questions?
We are here to help, facilitate and find solutions!
Contact us. ❤